Banana Boat rides on Koh Larn
Well you may ask banana boat? Banana boat is a long air filled cylinder made of the same material as a rubber raft and measures about three meters long. Pontoons on both sides also filled with air help to stable it, the key word here is help. Any where from one to ten people climb on and away you go. It is powered by being pulled with a rope behind a jet ski. You are at the mercy of the guy driving the jet ski and these guy are mean. They get you going behind the jet ski then they will make a sharp turn and the banana boat turns over with every one on it going in all directions. Myself I have never been on one but from what I've seen it looks like allot of fun.
Banana Boat rides on Koh Larn
Banana Boat Rides On Koh Larn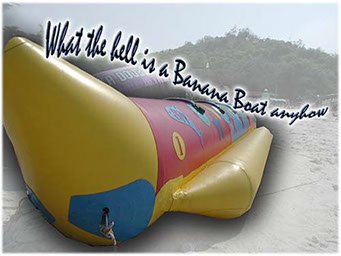 Thank you for visiting my website, and have a nice day!